Level 12 Meeting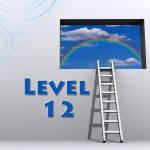 Level Twelve points the world-wide Neothink® juggernaut straight toward . . . (I will reveal this when our first wave of apprentices moves onto Level Twelve.)
….you learn how to play as an adult. By discovering value creation, stagnation quickly gets replaced with exhilaration, and the child of the past returns. Your life leaps to a new level as you tap your deepest motivational root through discovering your Friday-Night Essence.
Meeting Orientation
Attending Mark Hamilton's Master Apprentice Meetings is a three-step process. First, click on the link below to view your meeting, Step 1. Then, following the meeting, come back to this page and click on the Post Level Meeting Wrap Up video, Step 2. Finally, Step 3, click on the link that will take you to Mr. Hamilton's Meetings Integrations Page where he requests that you leave an integration, a statement or question about the meeting you just viewed. Mr. Hamilton will review your integration to gauge your progress through his Master Apprentice Meeting Series. So, now let's begin by clicking Step 1:
Step 1:
Level 12 Part 1
Level 12 Part 2
Level 12 Part 3
Level 12 Part 4
Level 12 Part 5
Step 2:
Post Level 12 with Ryan Williams and Steve Fagan
Step 3:
Click HERE to Enter Your Integration about the Meeting you just attended.
Find your local Neothink® Clubhouse, CLICK HERE to contact Member Services.